Secure Your Business With Cloud CCTV Systems From The CCTV Company
Experience unrivalled security without breaking the bank with our Cloud CCTV Systems. Combining robust protection and excellent value for money, our cloud-based solutions redefine what it means to make a smart investment in your business's safety.

Redefining Business Security: Unleashing The Power of Cloud CCTV Systems With The CCTV Company
At The CCTV Company, we're transforming the landscape of business operations and security with our cutting-edge Cloud CCTV Systems. Powering these innovative systems is Eagle Eye Networks, a world-leading security solutions provider that enhances our cloud-based CCTV offerings with unmatched quality and performance. We've designed our CCTV installation services to cater to commercial clients' unique security demands, ensuring optimal safety, security, and efficiency. We strive to be more than just a security company; we aim to be your long-term partners in safeguarding your business.
Our Cloud CCTV Systems aren't a one-size-fits-all solution. They are meticulously designed, considering the specific needs of various sectors. Be it Rail, Housing Associations, or Construction, our diverse portfolio consistently delivers enhanced security and optimised operations. The best part? Our cloud-based CCTV systems bring robustness and adaptability tailored to meet the challenges of a rapidly evolving business landscape.
Leveraging Eagle Eye Networks For Optimal Business Security: The Evolution of Surveillance With Advanced Cloud CCTV Systems
Our strategic partnership with Eagle Eye Networks, a globally renowned security and operations video management company, further strengthens our offerings. By incorporating their state-of-the-art Video Management System (VMS) and surveillance video API platform, we provide advanced cloud-based CCTV solutions that proactively identify and mitigate risks. The unique selling point of our Cloud CCTV Systems lies in the real-time access to your surveillance data, securely stored in the cloud. This seamless access brings unparalleled flexibility and offers peace of mind, thus empowering you to manage your business more efficiently.
Trust The CCTV Company to deliver comprehensive surveillance solutions that solidify your business's security while boosting operational efficiency. Our cloud CCTV solutions are not just about high-quality security infrastructure; they are about investment in reliability, advanced technology, and peace of mind. Embrace the future of security with our Cloud CCTV Systems and leverage the power of cloud technology to safeguard your business.
Enhanced Rail Network Security With Cloud CCTV Systems
Rail networks are sprawling assets stretching across vast geographic areas, including stations, tracks, remote bridges, and tunnels. This infrastructure often attracts vandals, graffiti artists, and thieves, creating a challenging security environment.
Our Cloud CCTV Systems, powered by Eagle Eye Networks, are designed to streamline and bolster rail network security. We combine live and recorded footage from all sites into a single web or app-based platform, accessible from anywhere. Our systems are compatible with virtually all analogue and IP cameras, allowing you to upgrade your existing infrastructure with AI-powered analytics.
Eagle Eye Networks' cloud-based platform provides robust cybersecurity, eliminating the need for drastic hardware overhauls while offering remote cloud access and AI functionality. Our solutions provide tools to expedite and simplify incident investigations. Advanced AI analytics offer valuable business intelligence, monitoring traveller numbers, peak times, loitering alerts, and line-crossing detection analytics for proactive security management.
Innovative Cloud CCTV Solutions For Housing Associations
In the domain of housing associations, security challenges are diverse and ever-evolving. Our Cloud CCTV Systems provide an innovative and comprehensive solution that addresses these challenges head-on and redefines the security paradigm with advanced technologies.
Eagle Eye Networks provides a cloud-based surveillance platform that consolidates all recorded footage from different sites into a single, easy-to-access interface. Our platform captures and stores only the events that matter, triggered by specific incidents such as motion or unauthorised entries. This approach is ideal for setups with limited network bandwidth.
The AI-powered Smart Video Search function allows quick location of desired footage, eliminating the need to sift through hours of irrelevant video. The platform also enables real-time checks on site and camera health status, notifying you when a camera goes offline to minimise system downtime.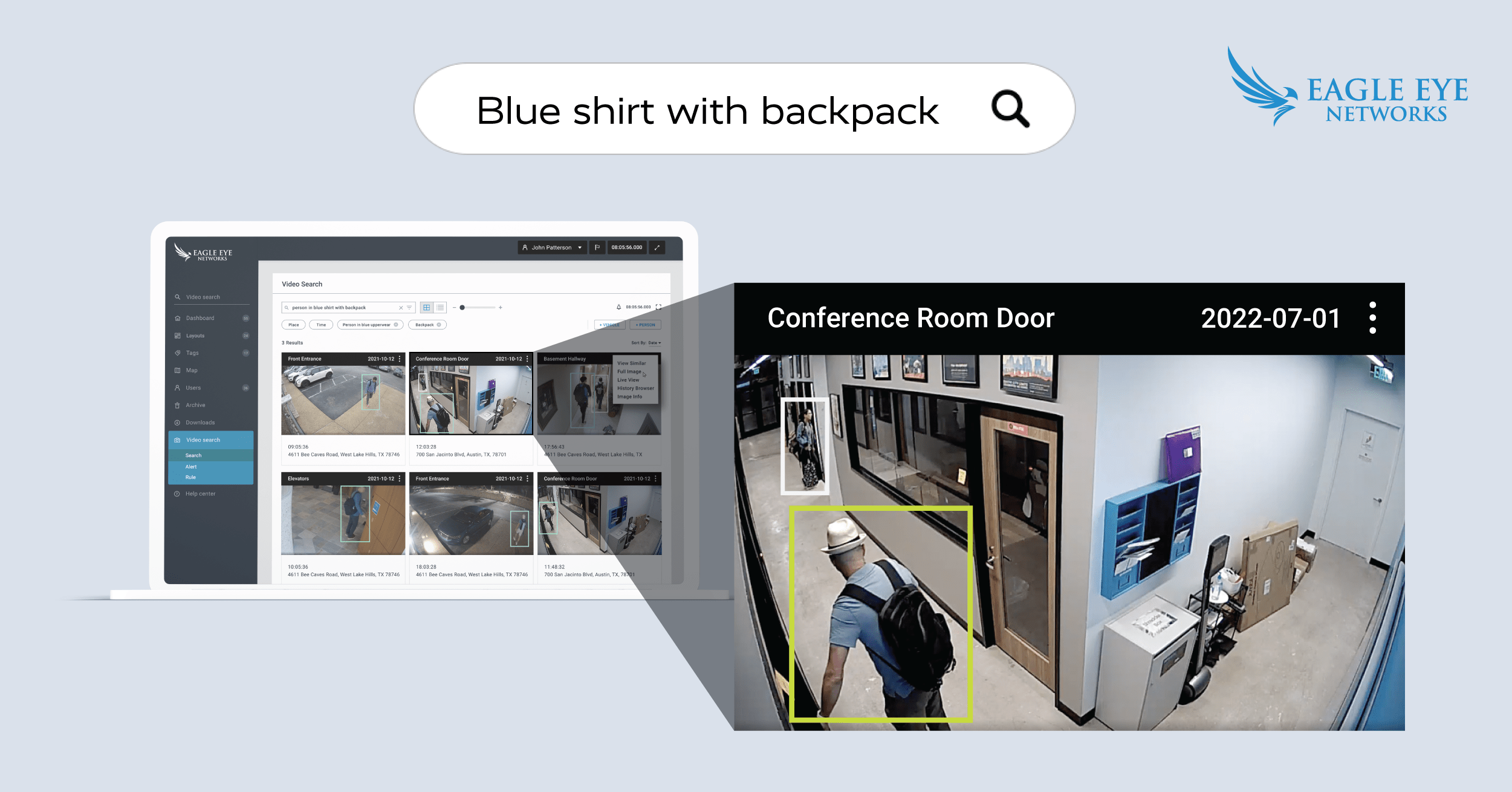 Advanced Surveillance Solutions For Construction Sites
Maintaining health and safety protocols, managing theft or vandalism, and ensuring secure access control presents a unique challenge in the construction sector. Eagle Eye Networks addresses these complex security needs with a tailored solution that blends cutting-edge surveillance technologies with intuitive, user-friendly interfaces.
Our Cloud CCTV Systems offer secure storage for video evidence related to on-site accidents, providing an extra layer of security. In addition to monitoring your equipment during unmanned periods, our solutions can record footage only when a specific event occurs, ensuring rapid response to any incident.
EEN's Licence Plate Recognition (LPR/ANPR) solution efficiently tracks approved or unknown vehicles entering and leaving the site. Adding this solution to existing cameras can enhance security without significant investment. Moreover, upcoming features will allow the detection of correct PPE usage, further enhancing on-site safety protocols.
Consult The CCTV Company For Enhanced Security
At The CCTV Company, your security is our top priority. As one of the most reputable security providers in the country, we offer comprehensive nationwide services to meet all your security needs. Our team brings over 60 years of industry experience, a passion for providing top-notch security solutions, and accreditations from NSI Gold Standard and SafeContractor Approved.
Whether you're a national company or an SME, we offer various commercial security systems customised to fit your needs. Our specialist engineers carefully execute each installation and possess the unique skill sets required for your security tasks.
Elevate your security standards with The CCTV Company. Connect with our team today. Call us at 01744 891 702 or use the contact form below to book a consultation with one of our security experts. Invest in your safety with The CCTV Company, your trusted partner for Cloud CCTV Systems and commercial security installations.