CCTV Towers
Whilst businesses from a wide range of industries can benefit from CCTV cameras, not every premises is suitable for commercial CCTV installations. For example, unoccupied business properties, construction and demolition sites, agricultural premises and temporary sites used for festivals and events. In these instances, mobile CCTV systems make an effective alternative to foot patrols by providing round-the-clock monitoring

ISO 9001:20015 certified 

NSI GOLD accredited

RISQS certified

Safe contractor accredited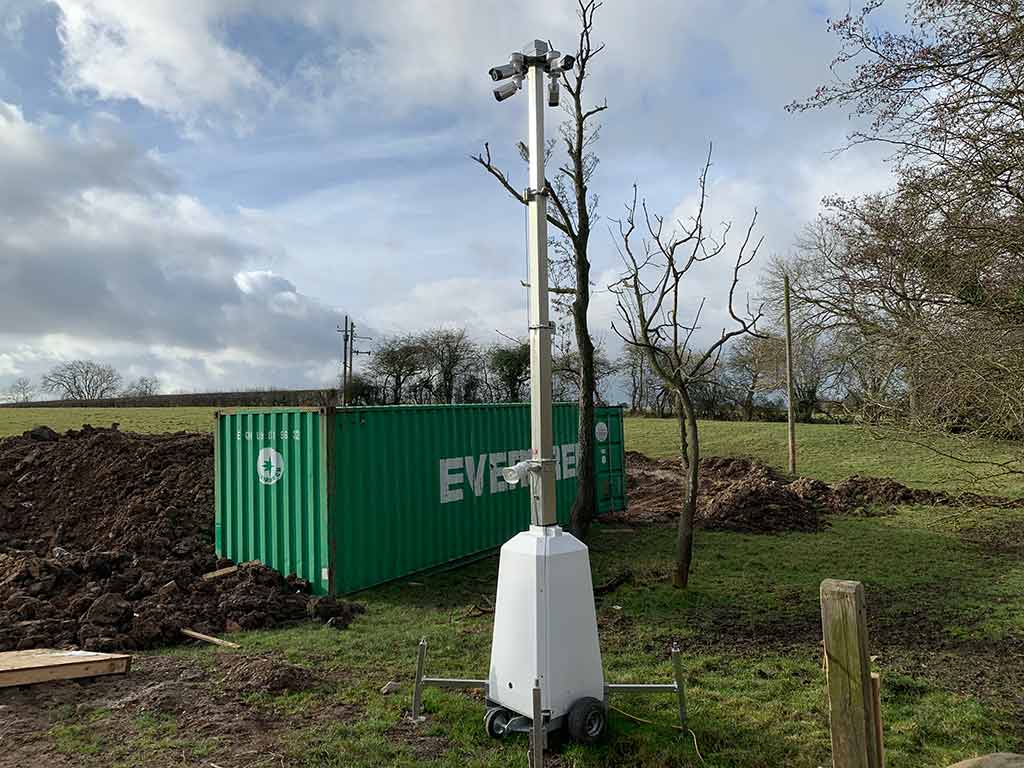 CCTV towers from The CCTV Company 
The mobile CCTV systems we use have an 80-metre movement detection range, intelligent real-time video analysis, and night vision. With up to 8 CCTV cameras on each tower, offering 360 degrees of coverage, nothing will escape the notice of these systems. These mobile security towers become a powerful tool combined with a remote CCTV monitoring service from The CCTV Company. The footage is relayed to an off-site monitoring centre where trained security staff will oversee the video feed and raise the alarm should there be a need. Images can be accessed in real-time from any PC or mobile phone or recalled for up to 30 days (or longer with optional cloud storage) after the initial recording. This offers you the peace of mind when you can't be present that any accidents or incidences of misconduct will be caught on tape.
How quickly can CCTV towers be deployed?
CCTV towers are available on a rapid deployment basis. This means you can hire them from us at short notice. As soon as you realise that a building or site needs additional CCTV cover, you can contact our team and have the equipment set up by our technicians, giving you the level of security you need for your venture or circumstances exactly when you need it. Strategic use of CCTV towers can reduce your security costs, minimise occurrences of false alarms, and deter anti-social behaviour and fly-tipping.
For commercial security installations, don't hesitate to get in touch with our team.
CCTV towers work by increasing the security, not only of your premises but also of any personnel, by allowing security teams first to analyse any threat and objectively and safely decide on the best course of action. As one of the UK's leading security system installation companies, we can provide a range of comprehensive and tailored security solutions. To enquire or for more information, please call our team today on 01744 891 702.