Safeguard Your Business With Warrington CCTV
If you're looking for a reliable and reputable Warrington CCTV design and installation company, contact us today to book a consultation with our NSI Gold-rated security team. Call us on 01744 891 702 and let us help protect your business with our bespoke CCTV solutions.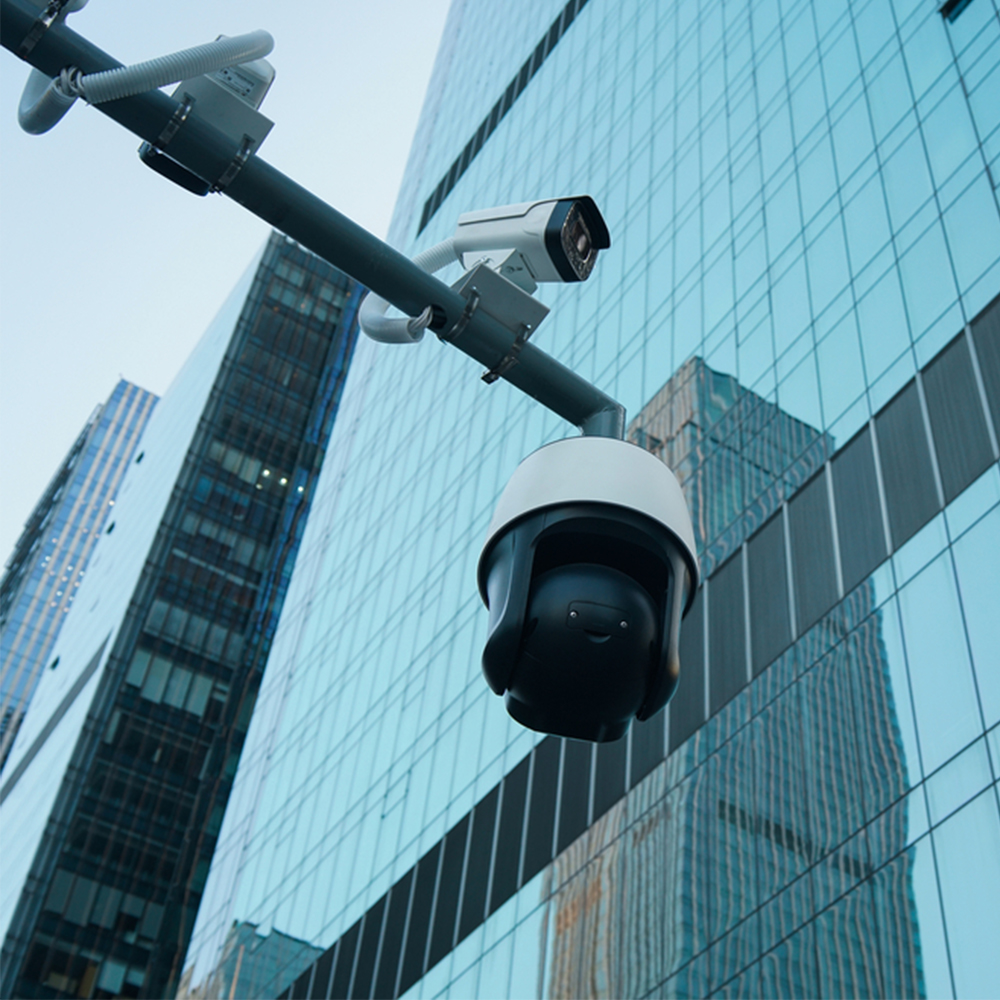 Gold-Rated CCTV Services In Warrington
Welcome to The CCTV Company, your industry-leading CCTV design and installation specialists in Warrington and the UK. Our NSI Gold-rated CCTV services provide bespoke security solutions for businesses of all sizes, offering complete peace of mind to our valued clients. We offer customised service as standard to provide the most appropriate security services. As such, we cannot give a "one-size-fits-all" pricing scheme. However, to be as transparent as possible, all billing is from a single source with no hidden fees or unexpected costs.
The CCTV Company, CCTV installers you can trust.
We offer a range of commercial security systems to suit all requirements, whether you're a national company or a small and medium-sized business. Our dedication to only the highest service standards ensures that every installation is fulfilled by a specialist engineer who holds the specific skills for the tasks to be carried out. But why should you choose our services? What makes The CCTV Company your ideal choice?

We are ISO 9001:20015 compliant.

We work in compliance with BS EN 62676-4:2015 and BS 8418 standards.

We are certificated to NSI Gold Standards. (NSI Compliance Certificate – NACOSS GOLD For the scope(s): Design, Installation and Maintenance of Intruder and Hold-Up Alarm and CCTV Surveillance Systems) 

We comply with BS 7858 for Screening & Vetting.

We adhere to BS 7984 for Key Holding & Alarm Response.
CCTV design & installation
We offer a beginning-to-end bespoke CCTV installation process. Complete with a wide range of operational options and excellent value, whether you choose a simple on-site system or a complex, multi-tiered solution incorporating features such as ANPR access control and IP recording and monitoring, The CCTV Company are here with you every step.
Our team are highly experienced and fully qualified in the fields of CCTV system design and commercial CCTV installation. Our 24-hour responsive repair and maintenance package guarantees ongoing technical support with a 4-hour callout response time to any site in the UK.
North West CCTV installers in Warrington
CCTV cameras are a core component of any commercial security solution. Every security contract we take is personally overseen by one of our directors, ensuring we consistently deliver the highest professional standards. As experts in wireless solutions and commercial intruder alarm networks, we can design and install the system best suited to your needs. Whatever the size of your network, The CCTV Company can offer the ideal technology for access control and intercom systems for commercial purposes.
We're very passionate about security and the industry we work in. We understand customers' trust in us, delivering high-quality security solutions to safeguard their companies. We have been established for over 13 years, and our team holds more than 60 decades of experience within the security industry. Additionally, we are a family-run business, and our company mission is to deliver the highest-quality security solutions at a reasonable price whilst also ensuring customer satisfaction.
When setting up CCTV monitoring, it is important to ensure that multiple cameras are used to view the site from various angles, ensuring there are no blind spots. As experts in CCTV Installation, our engineers can provide their expert opinions concerning camera placement, ensuring optimal coverage of your property.
Prevention is better than a cure, CCTV for crime deterrent.
CCTV is a superb crime prevention measure, providing a potent deterrent against criminal activities such as burglary and theft. High-quality CCTV security cameras convey that the business is serious about its commitment to security.
Businesses from various industries and sectors can use CCTV security camera systems to great effect for example, retail companies can use camera surveillance security to monitor shoplifting, sending camera footage directly to loss prevention staff to recover stolen items. It also works on a larger scale; for example, you negate the necessity for a large loss-prevention workforce in warehouse facilities through security cameras. Instead, warehouse businesses can use security cameras strategically to deter opportunistic employee theft.
CCTV isn't the only crime deterrent option available to businesses; however, it has one significant advantage that other forms of deterrent do not possess. Should the worst happen, and a crime be committed, high-quality CCTV cameras will record evidence of the crime. This video evidence could prove essential in a criminal investigation. Adding further value to CCTV as not only a crime and loss prevention strategy but also a loss recovery strategy if shoplifting, employee theft, or other forms of theft occur.
Additionally, security cameras have further advantages concerning crime prevention. Theft and break-in are not the only criminal acts businesses must consider. For example, CCTV can be a superb deterrent for criminal damage, trespass, and antisocial behaviour.
NSI Gold-Rated security solutions; protect your business from theft and vandalism.
Here at The CCTV Company, we offer diverse security solutions; however, as our name suggests, we specialise in working with CCTV. The CCTV Company is an accredited NSI Gold Standard company. We demonstrate that we meet and uphold the highest British and European performance standards to obtain and maintain this prestigious status. Additionally, we have also been awarded Safe Contractor Approved accreditation.
In addition to our phenomenal CCTV solutions, we provide a full range of other security measures for your property. These can be incorporated into your security installation, working alongside CCTV cameras or operating independently. Equipped and trained to install the latest technology, our security experts can provide security alarm services, security barriers and access control systems, key holding and manned guarding services, warden call systems, and more.
For all your commercial security needs, trust The CCTV Company
As one of the leading security system companies in the UK, we provide a comprehensive and tailored security solution for all our customers, from large corporations with extensive premises to small businesses based in commercial or industrial units.
Contact The CCTV Company today and find out how we can protect your property and business. Please fill out our contact form to enquire, or call our team today on 01744 891 702.