Door a

ccess c

ontrol i

nstallers

 



Access control systems are a fantastic point-of-entry security solution. Through the use of keypads, fob entry, card access, or more advanced systems using biometric data, you can ensure that only authorised persons gain entry into your building. 

ISO 9001:20015 certified 

NSI GOLD accredited

RISQS certified

Safe contractor accredited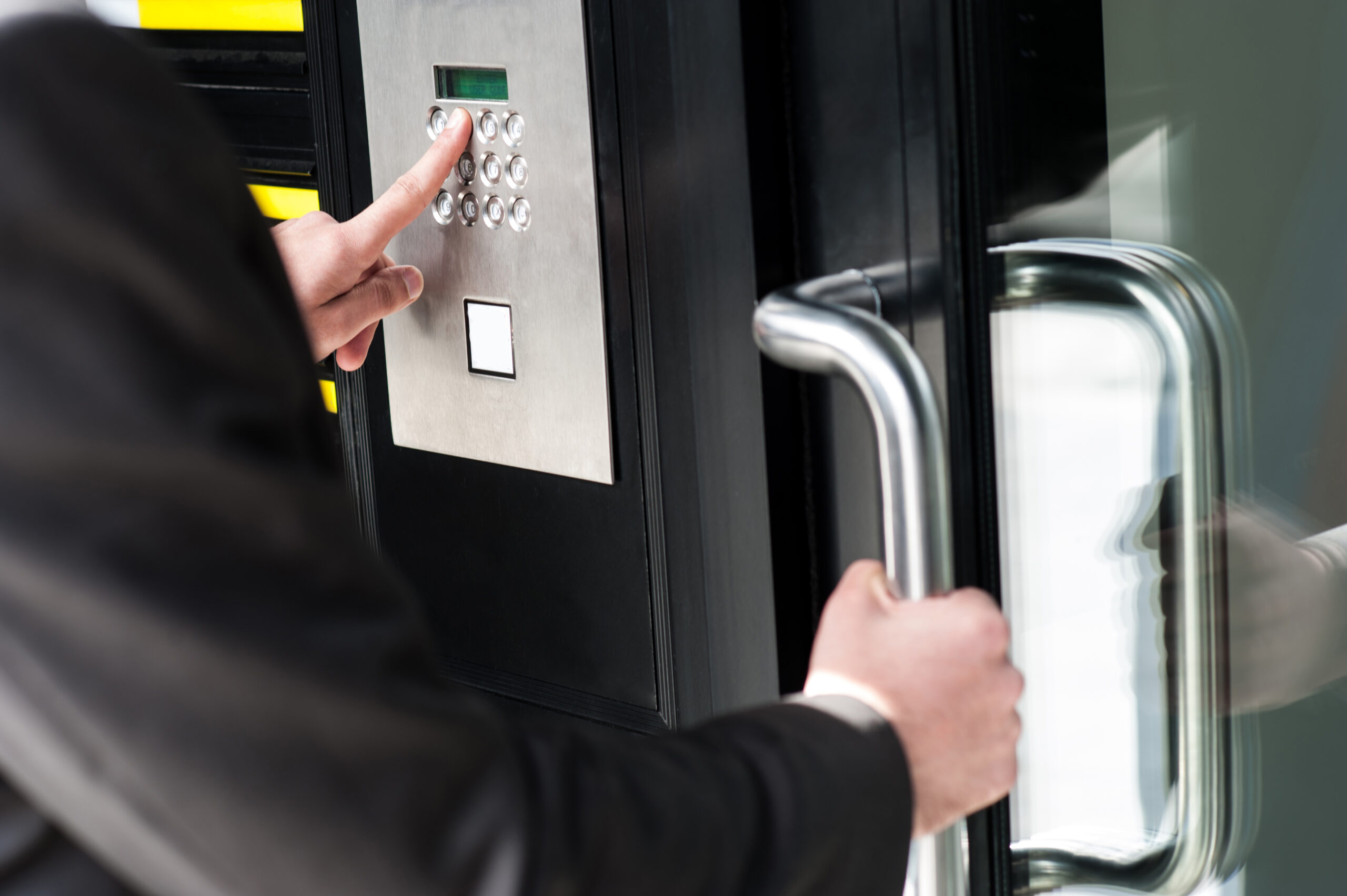 How much

does

door access control system installation

cost?
Each access control installation is a bespoke service tailored to meet your unique needs and requirements. Every business is different, and the challenges you face will be other. By providing customised solutions as standard, we, as access control installers, can provide cutting-edge solutions that meet your business's or organisation's precise needs. 
Do you need

commercial door access control systems

?
Why should you switch to a modernised electronic access control system? We understand that if you've always relied on lock-and-key security to secure your premises, the advantages of electronic door access control may not be immediately apparent. Firstly, it's important to note that lock-and-key is a form of effective access control. When complemented with comprehensive CCTV systems and intruder alarm installations, a sturdy padlock provides a moderate level of security against intruders. 
However, data is one advantage electronic access control systems have over traditional mechanical-based lock-and-key methods. With a digital strategy, you'll be able to monitor exactly who comes into your building and when. You can also implement systems to deactivate employees' digital keys outside their working hours, preventing unauthorised access, something you could not do with mechanical lock-and-key systems.  
Different access control systems can be implemented, depending on your needs and circumstances, for the expected volume of traffic through the entrance, the authorisation and security clearance of users (for example, staff, members of the public, etc.), and finally, the level of security required. Each system available from The CCTV Company boasts unique features that suit a particular application; we'd argue that soon after installation, you'll wonder how you managed without their remarkable features and insights. 
Finally, access control systems have a tremendous advantage over mechanical alternatives in emergency scenarios. Whilst it's never nice to think about it, it's always wise to prepare for the worse and hope for the best. In an emergency, such as a fire, doors can be opened to allow for swift and effective evacuation, whereas in an emergency, such as a break-in attempt. Entries can be mechanically sealed, preventing further access into the building. 
D

oor access control systems for business 
At The CCTV Company, we supply and install a diverse assortment of access control systems depending on your site's specific needs. Our team of access control installation experts can incorporate any of the below into networked building access control systems. This integration will allow you to control who has access to which doors and when; additionally, it will also produce reports of personnel movements which can be viewed retrospectively. 
Additionally, to achieve a comprehensive control solution that will offer the oversite you need whilst remaining easy to use at an affordable cost, we can match access control equipment across different entrances if required. Some of the business access control systems available from The CCTV Company include but are not limited to: 



 Keypad access control systems 
One of the most popular doors controls terminals. Keypad access systems are the ideal choice for low-security entrances with high foot traffic. With a keypad system, your staff only need to remember a simple numeric or alphanumeric code, and monitoring is not required. 

Fob entry access control systems 
Key fobs with electronic ID chips can be used to open doors and barriers. They have a distinct advantage over keypad systems concerning data collection; fob entry systems are suitable for networking to trace movement throughout the building. Additionally, time windows can be implemented for additional security to prevent staff from using your facilities outside their normal hours. 

Card access control systems 
Card access control is ideal for environments with a high turnover of visitors, for example, hotels, gyms or universities. Card coding machines operate in a similar way to key fobs and are available to provide a unique card for each user. However, concerning universities, gyms, or other similar environments, key access can be integrated into an ID card. This provides an additional layer of security, as the cardholder's identity can be quickly verified, preventing key fobs from being shared with unauthorised individuals. 

Biometric access control systems 
For those interested in the highest level of security, we can install biometric access control systems. These access control systems use physical features such as fingerprints and retinal scans to create ID credentials which are practically impossible to forge. 
 
While it is true that no security system provides 100% protection, the level of effort required to forge biometric data is substantial, resulting in an access control system that is as close to impenetrable as is reasonably possible. 
What

c

ommercial door access control

brands do we install?

Videx 
A leading manufacturer of UK access control systems, Videx specialises in door entry. Ideal for both public and private buildings, including schools, social housing developments, hospitals, office blocks, private residential homes or student accommodations, Videx provides systems that meet your access control needs. Their systems provide the highest security standards and meet all relevant compliance standards. Videx systems are designed with in-depth technical knowledge and provide lifelong product support for the designs. 

Paxton 
The CCTV Company are approved installers of Paxton™ access control systems, another leading brand within the access control industry. Over the last decade, we have worked closely with Paxton. Thanks to our excellent working relationship, we can offer exceptional prices with a five-year warranty should any parts fail. If you're looking for high quality and dependable access control solution, then our Paxton Access systems are the answer. We can supply and install the full range of Paxton Access Control systems and products. Whether you require the supply of fobs or the installation of one of our networked Paxton Net2 access control systems, we will always endeavour to offer the best solution based on your requirements and budget. 
Integrate your

door access control system installation

with video surveillance

,

CCTV cameras

, and more
As experts in both access control systems and CCTV video surveillance installations, we can provide an integrated solution to help you boost the security of your premises. For example, an access control system can prevent unauthorised persons from entering your commercial property. With CCTV camera systems and an integrated intercom system, your onsite security staff can comfortably communicate with guests, verifying their credentials and appointments before opening any doors. 
Access control systems can also be integrated with security barrier solutions. Security barriers are your first defence when protecting your company's premises for many businesses. Often found at the entrance, automatic car park barriers are designed to dispense with the need for staffed booths and to control access to your grounds without human intervention. Automated barrier systems can be triggered in several ways, such as car park security barriers to be accessed using card or fob systems or by an alphanumeric code entered through a keypad.
You could also integrate your access control security solutions with automatic door installation, providing optimum convenience combined with security; automated door systems can allow hands-free operation and the option to prevent access at the touch of a button. Additionally, it's important to note that automatic door installations help improve the accessibility of your business, which is especially important for allowing easy access for disabled persons.  
Wigan access control installers

 
The CCTV Company are one the most respected security companies in the North West; well positioned to provide our clients with Nationwide Security services. We employ local and fully trained security specialists and hard-working industry experts who operate to the highest demanding standards and hold significant industry accreditations, offering a uniquely wide range and high-quality security services.
Here at The CCTV Company, we offer a range of security solutions; we are an accredited NSI Gold Standard company, meeting the highest British and European performance standards, and have also been awarded Safe Contractor Approved accreditation.
In addition to access control systems, we also provide a full range of other security measures for your property. These can be tied into your control system or operate independently. Equipped with the latest technology, these measures include security alarm services, security barriers and CCTV security cameras, key holding and manned guarding services, warden call systems, and much more. 
Why choose The CCTV Company for

remote door access control systems and access control services

?
We're passionate about security, and we have been established for over 13 years with a team of over 60 years of experience in the security industry. We understand that customers must rely completely on us to safeguard their businesses. 
As an NSI Gold accredited access control company, you enjoy peace of mind in the knowledge that our services are provided, meeting the highest industry standards. However, with The CCTV Company, you gain an extra layer of quality assurance in the knowledge that we have achieved this significant benchmark 15 years in a row. The CCTV Company has been at the forefront of security services standards for over a decade. We will continue to work tirelessly to ensure our customers and clients receive the highest-quality security solutions we can provide. 
Our superb service standards mean that every installation is fulfilled by a specialist engineer who holds the specific skills for the tasks to be carried out. But why should you choose our services? What makes The CCTV Company your ideal choice? 

We are ISO 9001:20015 compliant. 

We work in compliance with BS EN 62676-4:2015 and BS 8418 standards 

We are certificated to meet the required standards in the Security field through the National Security Inspectorate (NSI) NCP104v3 and are approved for GOLD standards 

We comply with BS 7858 for Screening & Vetting. 

We adhere to BS 7984 for Key Holding & Alarm Response. 
The CCTV Company –

Socially responsible access control suppliers
One of the key areas in which The CCTV Company stands apart from our competitors is our commitment to our local community and society as a whole. As a company, we recognise that our influence comes with a responsibility to our community. 
Our values, culture and ethics impact every aspect of our daily life at the CCTV Company as a business with high standards of both behaviour and performance. The CCTV Company strongly recognises the importance of looking after our customers and strives to ensure all of our customers have a positive and lasting impression of our staff and our business as a whole. These high standards are upheld and consistently delivered by our dedicated and talented team, who have contributed immensely to the sustainability and growth of the company, delivering the highest quality at every stage of development. 
The CCTV Company Directors have involved the company in the community and charitable support. We place community and responsibility at the core of our business ethos; we strive to positively impact the community through the development of and involvement in various initiatives and programmes. To achieve this, we work closely with our employees, supply chain and clients. We also work with and support our customers in achieving their aspirations for making a difference in the local or wider international community. This is achieved by supporting Work placements for Social Housing client residents. 
As a business, The CCTV Company actively encourage our employees to take up to two working days of paid leave a year to spend on volunteering. Suggestions for implementing new projects from employees, clients and our supply chain are encouraged. 
What are other services available from The CCTV Company,

access control suppliers

?

Wigan CCTV installer 
CCTV cameras are a core component of any commercial security solution; businesses from a wide range of sectors can use CCTV security camera systems to great effect. High-quality CCTV security cameras convey that the company is serious about its commitment to security. CCTV isn't just for the prevention of crime. For example, a retail store can monitor customers' foot traffic, identify shopping patterns and use this information to improve the customer experience. As well as installation, we can provide a responsive repair maintenance package, where we can be onsite within 4 hours, with 24-hour contact and technical support. 

Intruder alarms & active monitoring in Wigan 
Seen by many as the default option for both commercial and domestic security. Our extensive expertise in CCTV systems and intruder alarm design means we can incorporate all your high-tech security measures into one cohesive package. With active monitoring systems in place, when an alarm system is triggered, electronic communication allows interested parties to be alerted immediately, such as business owners, the police, or a third-party security provider. These can respond immediately by remotely accessing a CCTV monitoring system or sending personnel to the address. 
D

oor access control installation

- The CCTV Company
As one of the leading security system installation companies in the UK, we aim to provide a comprehensive and tailored security solution for all of our customers, be they large corporations with extensive premises, businesses based in commercial or industrial units, or individuals in their private homes. Please fill out our contact form to enquire, or call our team today on 01744 891 702.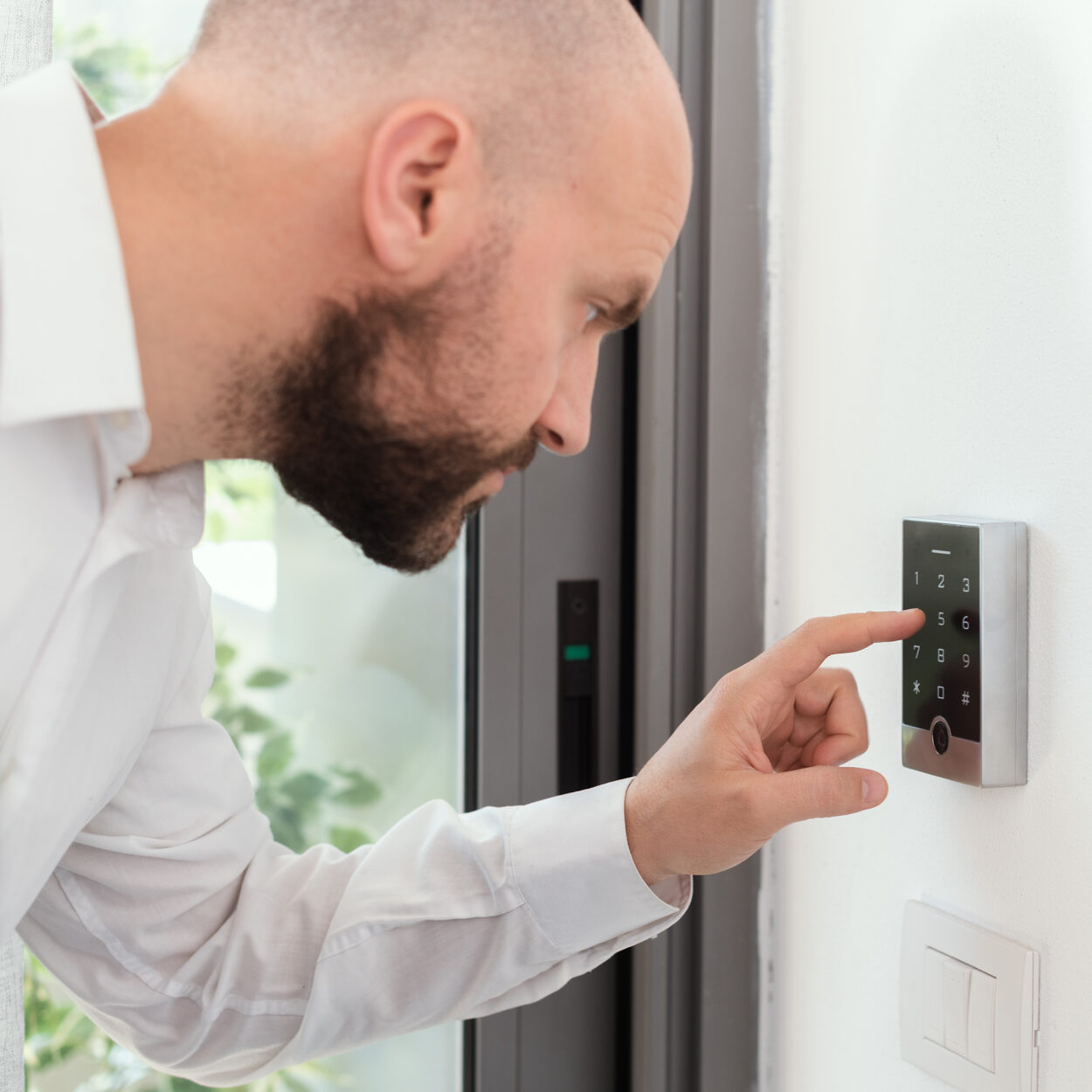 For commercial security installations, don't hesitate to get in touch with our team.
 As one of the UK's leading security system installation companies, we can provide a range of comprehensive and tailored security solutions. To enquire or for more information, please call our team today on 01744 891 702.